Hear the sounds of FLOWMASTER mufflers!

---
All of these sounds are in wav format. Most of them are in stereo. Please be patient as you download them. It is worth your wait.
This page is not affiliated with Flowmaster mufflers. It is a dedication to their superior exhaust products. They now have a website at www.flowmastermufflers.com . If you are interested in their products, please give them a call at 1-800-544-4761. Flowmaster, Team Flowmaster, and American Thunder are trademarks of Flowmaster, Inc. ©Flowmaster
---
1967 Camaro on Hot Rod TV's chassis dyno. 383 stroker with Flowmaster exhaust.

Danny Beckwith's 1982 Impala SS with a 383 stroker and a 3" Flowmaster 2-chamber dual exhaust.
Danny Beckwith's 1982 Impala SS goin' down the dragstrip.
Listen to the comments that the announcer had to say at the dragstrrip.
Danny Beckwith's 1982 Impala SS boilin' the hydes going up through the gears. Recorded from inside of car facing the rear window.
The Imp' idling with it's deep, authoritive sound.
Heavy acceleration in the Heavy Chevy.
NEW SOUNDS JUST ADDED!
Danny's Imala SS reving and snapping the throtle from 3500 rpm!
Dan heatin' up the tires.
Oh yes, another burnout from the ol' Imp.
The quarter mile pass! Low 12's.
Danny requesting a flyby. Hear the Impala SS go by at nearly 140 MPH!

Pat Towle's 1984 Mustang with a 302, Edelbrock Performer RPM heads, Comp Cams Xtreme Energy cam, and a Flowmaster American Thunder cat-back exhaust.

Mark Strelka's 1972 Chevy pickup with a Summit Racing Equiment 330 hp motor with 2.5" Flowmaster 2-chamber dual exhaust.
Listen to that Summit motor idling.
Mark's '72 Chevy bangin' through the gears. It's fun powershifting a granny tranny!
Crusing along down the highway in the old Heavy Metal.
Mark downshifting to 3rd and double clutching down into 2nd gear. Hear that engine reving and those tires squaking.

Kyle Hubler's Ford Lightning smokin' the tires up through the gears.

Randy Sturrup's Ford Bronco with dual Flowmasters.

Kyle and Randy speeding away in their trucks.

Brian Biolchini's 1993 Chevy C1500 Sportside with dual Flowmaster exhaust, reving the engine
Brian doing a burnout with his Chevy.
More reving of Brian's 350 small block.

Lincoln's 1995 Mustang Cobra with a Flowmaster American Thunder exhaust system.

Greg Eichberger's 1995 Mustang GT This one sounds good.

Ken Moitoza's 1995 Chevy C/K 1500 Extended Cab Pickup. It has an Edelbrock Tubular Exhaust System headers and a Flowmaster American Thunder Series Exhaust.

Hear the alcohol injected, blown big block Chevy tractor pulling the sled down the track! Almost a full pull.
This Alky Rat motor idling is music to my ears and yours.

Listen to a sample from Prolong Super Lubricants Xtreme Machines CD: All Rights Reserved to Prolong Super Lubricants and Like Dat Music, Inc. ©1999
Jim Yates' Pro Stock Firebird doing a burnout.
Jim Yates' Pro Stock Firebird going down the dragstrip.
Kenny Bernstein's Top Fuel dragster doing a burnout and pass down the strip.
Call 1-888-296-6922 to order this awesome CD.
---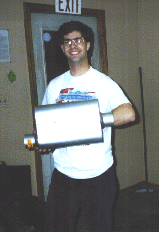 CHECK OUT FLOWMASTER EXHAUST's NEW WEB SITE!!

Check out R&E Racing's web site where you can purcase FLOWMASTER products online.
---
Back to Horsepower Garage
To The Beckwith's Impala SS Website!
This page has been updated on January 8, 2000.
Powered by Strelka